How to buy a new boiler (without getting ripped off)
Unfortunately, it's true – there are unethical tradespeople and unprincipled companies out there, willing to take advantage of people facing a big panic-buy purchase, such as a new boiler.
We've all heard the stories and watched the TV shows where customers are left penniless after dealing with rogue traders and dodgy dealers.
However, when it comes to replacing your boiler there are a number of steps you can take to safeguard your pennies and warmth.
We know it's not the most glamorous of purchases but when it comes to buying a new boiler, if you get it wrong, you'll know about it!
Picture this. You're going about your business when there's an unfamiliar rumble coming from your boiler and you realise your radiators are cold and you've no hot water.
You call out a heating engineer and they mutter those dreaded words – 'beyond economical repair'.
In other words…
You need a new boiler
Your old boiler is heading for the scrap heap. You need a new boiler and quick.
With this in mind, we've compiled the below list for you – 10 important things to think about before replacing your boiler…
1. How much does a new boiler cost?
There's no easy way of putting it – buying a new boiler is one of the single largest compulsory expenses that homeowners and landlords will face.
But the good news is that you can save hundreds of pounds by doing your homework and shopping around.
The consumer group, Which? found that prices range from £600 to over £2400 – AND that's just for the boiler alone.
On top of that, you've got installation, the flue, chemicals, and controls such as thermostats and timers to consider. Phew!
We give the full and final cost of a boiler installation a little further down this page.
But first things first…
It's worth knowing that there are many different boiler types, boiler brands, and specific boiler models out there.
When you're thinking about buying a car, say, a Volkswagen, because you trust in the brand. This doesn't mean you'll be happy with any old Volkswagen. Whether it's an SUV or a compact hatchback, you need to find the one that suits your lifestyle.
It's the same with a boiler.
There are three main types of boiler
– A combi boiler
– A system boiler
– A conventional (heat only) boiler
The combi boiler is the one we hear a lot about because it gives you instant heat and hot water – a big plus in today's world where convenience is key.
However, a combi boiler isn't right for everyone, or every home – you need to balance both cost and benefits.

2. Pros and cons of a combi boiler
Pros: Compact, highly efficient, provides instant hot water, and often cheaper to run due to the water being heated in smaller amounts.
Cons: A combi-boiler gets its water supply from the mains and so struggles to meet a high demand for water. Typically, if 2 or 3 people simultaneously turn on taps in different rooms, the water pressure can greatly reduce – not ideal if you're in the middle of washing your hair.
Because a combi boiler doesn't rely on a big backup water tank you save a lot of space which is great for small to medium-sized homes.
However, the lack of a backup water tank means the combi struggles to meet high water demand and with this, in mind, a larger family living in a bigger home is likely to be better suited to a traditional boiler that also comes with a water tank.
If you're, unsure, chat through your requirements and the specifics of your home with an experienced boiler installation engineer.
At Gas Angel, one of our Gas Safe registered boiler installers will explain your options, discuss the pros and cons, and then give you their expert recommendation based on what you want and need.

3. Choosing a boiler brand
Once you know which type of boiler you want, it's time to choose a boiler brand.
Which? Trusted Trader and Which? Magazine has rated just under 400 boiler brands, with Worcester Bosch, Baxi, and Ideal all coming up trumps.
Gas Angel installs all of these brands with warranties of up to 12 years, meaning no boiler worries for way over a decade.
As we mentioned above a boiler alone can cost between £600 – £2400. But, one thing to note is that a huge price tag doesn't necessarily mean you're getting the best product for you.
Always read the boiler brand reviews by independent bodies such as Which? and ask a Gas Safe registered heating engineer for a few options to narrow down the search.
Google the boiler brand and boiler model that your heating engineer recommends, and don't forget to Google the heating engineer's company too (so you know exactly what to expect).
4. How much does a boiler installation cost?
Again, the cost of a boiler install alone (not including the boiler and other parts/materials) varies depending on how much work is required.
We explain, why and how here…
A boiler swap installation
Replacing like for like – if you're replacing an old combi with a new combi boiler, and it's going to be installed in the same spot, then your installation cost will be at the lower end of the spectrum. A like-for-like install also called a boiler swap, usually takes around one full day.
A boiler conversion installation
However, if you have a conventional boiler and want or need to upgrade to a combi boiler, plus you want to move the boiler location from say, the kitchen to the garage, this is will take more time and is classed as a 'boiler conversion' – it's a change to the wider central heating system as well as the boiler.
This could require two to three days' work, depending on the requirements.
Other factors that impact time and cost include…
Where your flue is positioned. The flue is essentially the white pipe that sticks out of the back of your boiler and into the open air, getting rid of all the nasty gases and fumes.
Many people will have a horizontal flue that might stick out of the kitchen wall. With this being at a relatively low height, your engineers won't need to use ladders or scaffolding.
However, some boilers have vertical flues that go all the way up through the floors and out through your roof – this means the engineer needs to work at a height.
Additionally, if you have a pitched roof, there's another layer of complexity as a professional roofer might be needed to remove or replace tiles (if the flue is old, and you're replacing it with a newer, slimmer version, there will be a gap left that will need to be filled to stop rainwater and cheeky little animals from sneaking into your house).
At Gas Angel, we have great relationships with reliable local roofers so we cover all eventualities meaning you don't need to worry.
It's worth understanding why a boiler installation might cost a little bit more or less depending on what you're having done.
Onto the numbers…
According to Which? you can expect to pay around the £500 mark for a like-for-like replacement of a combi boiler with a horizontal flue.
However, Which? say the costs can rise to around £1,500 to replace a conventional boiler with a new combi system, and moving it into a brand new location with additional complexities such as the vertical flue and roof work.
5. What does Gas Angel charge to supply and install a new boiler?
*THIS is the most important figure to our customers*
At Gas Angel, our total (all in) cost for a new boiler plus installation typically ranges between £1,660 and £3,000.
Where your quote will land simply depends on all the factors we've mentioned above.
The great news is that all Gas Angel boiler installation quotes are fixed.
This means that if we come across an unexpected obstacle (which does happen on occasion) you won't pay any extra for the parts needed or additional engineer time required. The price we quote you is full, fixed, and final.
6. How to save money on the cost of a new boiler and installation
So now you know the cost implications and variants, how can you save money?
The answer to this is simple – shop around!
A good place to start is by talking to some of the national brands for example British Gas.
They can guide you through the process and get you a quote so you know what to expect in terms of what's involved, the materials required, and the likely installation cost.
But that's just a starting point.
Once you have this initial quote, compare like for like by speaking to other companies – perhaps agile, local companies who tend to charge less than the big boys!
It's been acknowledged that an independent business such as Gas Angel, can charge you up to a third less for the same brand and we'd argue the same if not better, quality engineer 🙂
Of course, it's never just about cheap – you want value for money too.
You don't want a boiler made of Lego and an engineer who has lots of boiler repair experience but very little experience in fitting boilers.
So, as we said earlier read the reviews, go on Google or Which? or Facebook and see what others are saying about the company you're considering using.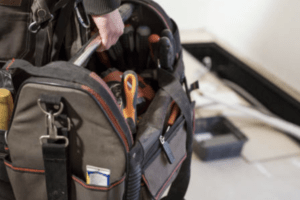 7. Boiler warranties and guarantees
At Gas Angel, we have what we call our 'Peace of Mind Promise'.
If there's a problem following install, we will solve the problem and/or fix the issue quickly, without it costing you a penny more.
After-care Care CARE!
An important factor to consider when it comes to value for money and your peace of mind is the company's aftercare policy.
We'd be lying if we said that every boiler install goes without a hitch.
There are so many things that can impact a boiler installation – it's therefore important to make sure ensure the company you employ to install your new boiler, can provide you with a guarantee on their work, as well as a robust manufacturer's warranty.
Not only does the boiler need a boiler warranty (some of the boiler brands we work with have huge 12-year warranties which is great) but you also need to know that, if something goes wrong post-installation, the company you choose to work with will be as helpful and responsive as they were prior to the sale.
Hire positive and proactive engineers
You need a proactive company with a can-do attitude that will keep going until you're totally happy (we're proud to say some of our best reviews are based on the fact that we don't give in and keep going until the job is done and our customers are satisfied).
To make sure your chosen engineer delivers on this kind of aftercare, ask them to detail their aftercare policy, ask to speak with some of their previous customers, and check that their online reviews mention boiler installations.
8. How do you want to pay for your boiler?
Another thing to consider early on is payment.
Who has a spare grand or two in the bank that's just desperate to be spent on a boiler replacement? Even if you do, you'll likely have other things (a holiday in the sunshine maybe 🏝) you'd prefer to spend your hard-earned cash on.
Either way, there are options available to help you spread the cost.
Easy, low monthly payments
At Gas Angel, for example, we offer a 10-month, 0% interest-free payment plan so you don't feel the pinch so much.
Always ask about the payment options available and be careful about paying anything upfront.
At Gas Angel, we only take payment once the work is complete and you are happy with the work carried out.

9. Could a new boiler pay for itself?
If you're replacing an old boiler you're likely to save a huge amount on your energy bills because of how efficient your new one will be.
The Which? Consumer Group shows that estimated savings (if you live in a detached house and want to replace an old boiler with a new modern boiler) could be in the region of £650 per annum.
That's not to be sniffed at!
But not all new boilers are made equal – some are more energy-efficient than others.
Chat to your boiler engineer about this and check out energy efficiency ratings when you're Googling to be in with the best shot of saving hundreds of pounds on your energy bills.
10. How to get a fixed price boiler quote straight away
Hopefully, this article has simplified the boiler buying process and will help you make an informed purchase when you next need to buy a new boiler.
If you'd like an instant boiler quote from Gas Angel, just click this link 👉 fixed price boiler quote calculator
You'll get a quote back in less than a minute!
☎️ 👨🏻‍🔧 If you'd prefer to speak or meet with one of our expert boiler install engineers…
Please call us on 0191 289 3464
Independent customer reviews
Thank you to our lovely customers for leaving us glowing reviews across three of UK's most trusted platforms! Take a look...