What radiators should I buy?
When it comes to choosing the best radiators for a room in your home, planning ahead can make a big difference to:
– The warmth of that room
– Your energy bills
– Your décor
– Your carbon footprint
For around 7-8 months of the year, heat and warmth are a key factor in creating comfort for you and your family.
Because of this, it's helpful to be aware of the importance your radiators play in keeping things cosy… even if your old radiators aren't quite on their last legs just yet.
In many homes, radiators are now more than just functional. Believe it or not, you can have as much fun scanning stylish radiators as you can stylish sofas!
8 things to consider before buying a new radiator
1. Measure your new radiator for heat, not just fit
When measuring up for a new radiator you need to consider more than just the size and shape of the radiator and how neatly it will fit onto a wall.
The dimensions of the room in which your radiator will sit, as well as the size of the room's openings (doors, windows, etc) and the number of external walls all need to be calculated to ensure you buy a radiator that generates enough heat for the space.
Your BTU (or British Thermal Unit) energy requirement is a calculation of how much heat output you need from your radiator in order to make your room feel nice, as well as look nice.
This might sound complex, but in reality, there are loads of online calculators out there to help you come up with your BTU energy requirement.
If coming up with the calculation feels like hassle, don't worry, any Gas Safe Registered engineer can work this out for you – if you'd like Gas Angel calculate your BTU requirement – just give us a shout.
The size and material of your new radiator will determine its heat output.
Many manufacturers have a wide range of sizes on offer but as a general rule, the larger the size the greater the heat output and the warmer the room.
So, once you've got your BTU requirement, check the heat outputs on manufacturer's websites and be careful not to downsize too much.
2. Your new radiator doesn't have to go in the same spot as your old radiator (if you don't want it to)
We tend to think of radiators as being in a fixed spot. But that really isn't the case! You've every right to start with a blank canvas when you're redesigning a bedroom or kitchen – and that includes re-locating your radiators too.
Just because it's always been by the window, doesn't mean it's got to stay there.
So, don't assume that your new super-king size bed can't be positioned in its perfect spot or that your telly can't be moved away from the glare of the low winter sun because your current radiator stands in the way.
Traditionally, radiators have been installed under windows or on external walls because of how they push the heat around the room. But now we know our homes are becoming more energy-efficient and there is a lot more airtightness we can afford to be more flexible about where we install our radiators.
So, if your house is relatively new and well-insulated you can choose to position your radiator wherever suits.
3. Radiators can be beautiful
When we think of radiators, we tend to think of the plain-white model that comes as standard in most new homes – but there's plenty more to choose from.
Believe it or not, you no longer need to track down ornate radiator covers to add style to your heat-emitting apparatus!
Now you can get radiators that are a feature in their own right.
Designer radiators are indeed a thing and can come in varying colours and prints, minimalist designs, or intricately detailed shapes.
They can be horizontal or vertical and some can even sit in corners like a work of art!
Google them – you'll find a whole new world of heating design you never knew existed!
4. The different type of radiators available
Traditionally, radiators were made from steel because of its efficiency and because it's a strong and flexible material.
But now you can get a wide range of radiators made from steel, brushed steel, aluminium, cast iron, stone, and even glass!
Brushed steel and polished finishes can be achieved by using stainless steel which is water-resistant too.
Additionally, you could go for something lightweight, like aluminium. Not only is the material lightweight in itself, but these radiators require less water which in turn reduces their weight.
Plus, aluminium heats up quickly and therefore warms the room fast making them energy efficient. This also means that they lose heat quickly but if your heating is controlled by a thermostat, this shouldn't cause any problems and can in fact be of benefit in terms of greater control.
They also tend to be made in very modern, sleek designs which is a plus for the modern home. Plus, because they're so lightweight, they're suitable for most wall types.
At the other end of the spectrum is the ever popular cast iron radiator. A traditional, heavy weight radiator that instantly dials up the character of any room.
Unlike aluminium, cast iron is denser and takes longer to warm up – but, with high levels of inertia  they go on providing heat even once they're turned off.
Because it's so heavyweight it has a feel of quality and grandeur to it. But, you do need to think carefully about whether or not these are suitable for your home.
First of all, you need to make sure that your wall is structurally sound and can take the weight. You can get freestanding ones, however, due to the weight of cast iron, you need to ensure your floor is strong enough to hold it.
Additionally, it will almost always mean that two engineers are needed to fit the radiator and they may need special lifting equipment too depending on the size, so the installation can sometimes be a little costlier.
Another thing to note about the type of material you choose is that glossy surfaces don't emit as much heat as matte surfaces so bear this in mind when looking for high heat output.
The new range of materials used in radiator manufacturing can really transform your home. And if you want to be really quirky or unusual, check out printed radiators.
Yes, you can actually have imagery printed onto your radiators! There's so much choice and there's more being developed every day.
5. Your choice of radiator can influence your carbon footprint
Because lightweight options such as aluminium are really energy efficient in terms of how quickly they heat up, they are possibly the greenest option on the market.
Not only that, they can be recycled at the end of their life, so there's less waste involved.
That means this option is perfect for the environmentally-conscious customer.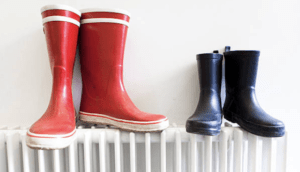 6. Thermostatic radiator valves or TRV's for short
OK, so we've considered the look, the materials, the energy efficiency, and how warm we want to be. But we can't finish this blog without talking about functionality.
So, these final sections are all about radiator valves.
TRV'S give you more control, allowing you to adjust the heat output on individual radiators, controlling not only room temperature but also how much energy you use and therefore how much you'll pay each month.
Manual valves are adjusted by hand and allow a constant flow of water to be able to get into the radiator – these are the ones you find on older radiators.
They can get stuck and be difficult to turn and they also impact the look of the radiator.
Installing TRVs combined with a room thermostat and programmer in a typical three-bed semi-detached gas-heated home can save you around £170 per year according to the energy savings trust.
And of course, they look much nicer, make life easier and allow you to heat your home to the perfect temperature.
7. Smart radiator valves
Last but by no means least is the clever smart radiator valve.
Smart radiator valves such as the Hive smart radiator valve have increased in popularity as part of the smart home revolution. They are controlled and programmable directly from your smartphone and will ideally be connected to your smart heating thermostat.
This means you can adjust your heating in your room of choice whether you're sitting in bed or just leaving the office.
They're quick to install too and if you already have TRV's you can replace your old radiator valve yourself. Simply unscrew and remove the TRV head and replace it with your new smart radiator valve.
If you've had your radiators for a while, you may have the older on/off valves (smaller valves without a numbered dial).
Installation is therefore a bit more involved and best left to your heating engineer who will be experienced in installing and plumbing radiators.
Our Gas Angel engineers can help and also advise you on what is best for your home – just get in touch with any questions.
So, there we have it. Radiators need not be boring, and they should never be forgotten about.
They can play just as big a role in creating a new look and certainly feel for your space as new kitchen worktops or a new splash of paint.
→ What next
If you live in the North East and would like Gas Angel to help with your new radiators or radiator valves…
Drop us a message here or call us 0191 289 3464.
Independent customer reviews
Thank you to our lovely customers for leaving us glowing reviews across three of UK's most trusted platforms! Take a look...