Ultimate boiler install checklist
So you've decided to put your old boiler out of its misery and replace it.
Your new gas boiler will keep your family warm and baths and showers hot.
However, the old one used to do that and now you're worried you'll have cancel the cruise to pay for a new boiler instead.
Stop!
That's really not the case. Of course a new boiler is often an unexpected expense but with highly competitive boiler packages now available and the option to spread the cost interest free on Worcester Bosch boilers, your plans don't have to change.
What you do need to consider when buying a new boiler is…
Will my boiler be fitted safely and correctly
Your warranty will be invalid if your boiler isn't installed properly, and most importantly your boiler may not be safe.
Always use a Gas Safe Registered Engineer.
Do your due diligence
It's worth researching your new boiler like you would your next big holiday.
You must feel comfortable and ultimately trust your boiler installer. We visit a handful of customers each year across the North East where their new boiler has been installed poorly causing functionality issues, or worst it is unsafe.
Look for online reviews, platforms like Which? Trusted Trader, or Checkatrade verify reviews so you know they're accurate or a quick Google search will often tell you lots about the gas engineer or the heating company your'e considering.
What type of boiler do I need?
👆Click the above link to see which boiler is right for your home.
Its helpful to have a good idea of what type of boiler is right for you, is it a combi boiler, a regular heat only boiler? How powerful does your boiler need to be to heat your home and supply you with all the hot water you and your family need? What length boiler manufactures warranty do you need? How much will a new boiler cost me?
The 'What type of boiler do I need' link above will give you the answer to these question.
Follow our checklist below to ensure your boiler is installed well
Or ☎️call 0191 289 3464 to chat through your boiler options or to book an engineer to visit you at home.
COVID-19: Full social distance and PPE measures in place.
Location
Boilers can be located pretty much anywhere providing they have the clearances so the case can be removed for servicing and so repairs can be carried out.
If the clearances aren't met then a manufacturer can refuse to repair it.
Also bear in mind that if you have a combi boiler 5 copper pipes and one plastic pipe will need to go in to the bottom of the boiler. If it's a regular boiler then you will need just 3 copper and 1 plastic pipe.
Also consider the noise, most are very quiet nowadays but it's still worth considering – we get called out a lot to move boilers from bedrooms in to kitchens, garages and lofts.
Your boilers flue
The final thing to consider is your boiler flue. The flue exits the top of your boiler and goes outside one of two ways – vertically through a hole in the wall (a vertical flue), or horizontally up and out of your roof (a horizontal flue).
There is slightly more work and parts required, including ladders and depending on how high the building is (i.e. a town house) possibly scaffolding.
Your Flue emits a plume (a light smoke-like cloud) out of the flue terminal so the terminal MUST be 30cm away from a window, door or airbrick. If this in unavoidable your heating engineer can use a plume kit which will divert the fumes safely away.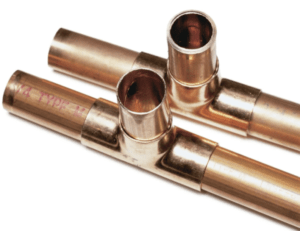 Gas pipe
If your gas pipe is to small your boiler wont function properly, it may also be unsafe. As a rule of thumb you shouldn't have any 15mm pipe running from your gas meter to your boiler – it should all be 22mm.
If you have a boiler above 36kw then you may need a 28mm gas pipe installed, or at least some of the pipe will need upgrading. The need to upgrade gas pipes is  common so make sure you ask your installer whether it is needed as we often see new installations piped in old 15mm gas pipe.
Pipe clips
Make sure your gas pipes are clipped every 1 metre as a guide, otherwise they may become loose and noisy.
Drainage and condensate pipe
The pipe that runs to a drain either internally or externally.
Internally it should be after any waste traps and is normally tapped in (connected) to an existing waste pipe. Externally it should be 32mm or above to avoid freezing and terminate below drain grills or covers.
Another option is to use a pump or soakaway (buried in soil) unless you're using a pump then the pipe MUST slope down away from the boiler, if not the condensate could back up in to the boiler and damage your main heat. The slope also reduces the chance of freezing if external.
Flushing/filter
If you replace the boiler but don't have your system flushed, you're putting a brand new boiler on to an old central heating system that is likely to have gathered dirt and debris inside over the years. Any sludge and corrosion built up over the years will travel straight through your new boiler clogging up everything in its path.
Manufacturers will not replace sludge damaged parts under warranty.
And, if you have or are interested in boiler cover, your boiler insurance company will only cover wear and tear and faults caused by central heating sludge or debris.
Gas Angel Heating Engineers always thoroughly flush your central heating system with chemicals and inhibitor (a chemical that slows down any build up of sludge). Inhibitor is applied once the system is re-filled.
Finally make sure a good quality filter is installed on your return pipe. Your boiler filter not only collects the sludge but stops any of it from entering your boiler.
Documents
Once your boiler is commissioned by your installer, ensure he/she registers your warranty straight away (they only have 30 days to do this).
Your installer must also registered your new boiler installation with Gas Safe and provide you with a Gas Safe certificate which you need if you ever want to sell your house.
The end
Hopefully you've found this article useful – if you would like a new boiler quote or further advice, 📞call 0191 289 3464 to chat through your boiler options or to book an engineer to visit you at home.
COVID-19: Full social distance and PPE measures in place.
or get a…
▪️ Click the above link 👆
▪️ Answer 5 quick questions
▪️ Get cost of a new boiler now
Our online boiler quote calculates suitable boiler types and recommend 3 boiler models perfect for you.
You decide based on your budget, the warranty you want, and the boiler brand you like best.
Independent customer reviews
Thank you to our lovely customers for leaving us glowing reviews across three of UK's most trusted platforms! Take a look...